Essay On Corona Warriors
Hello Friend, In this post "Essay On Corona Warriors In English | Corona Warriors Essay", We will read about Corona Warriors as an Essay in Detail. So…
Let's Start…
Essay On Corona Warriors In English For Students
India is the world's largest democratic country. It is known for its 1.3 billion population. All were good before coronavirus. Corona Warriors didn't know that 2020 will be their worst year.
The world has faced many viruses in the 21st century Such as influenza, plague, Ebola, bird flu, swine flu, etc. Today the world is facing a terrible virus. It's name Coronavirus which is also known as Covid-19. Corona is a contagious disease. And today this disease is also spreading all over the world.
When there was an outbreak of coronavirus in Wuhan (China), our government was on alert. High checking on the airport because of that, the entry of Covid-19 was late in India.
Corona warrior, who attempts to save India as well as the world from the corona pandemic. These include doctors, nurses, police, Scavengers, etc. And yes those who sit at home and obey government orders to help prevent this infection are also Corona Warriors.
And today, with the body as well as mind they engaged in serving the country. In fact, people considered the film's heroes and cricketers to be heroes, but today it is known that the real heroes are doctors, police, nurses, and sweepers, etc.
Doctors didn't know that the 21st Century will be the worst century of all time. Because only in 20 years we had lots of pandemics in the world and the worst is the Covid-19 pandemic.
Read:
Doctors are our God. They didn't meet their own family whenever we live together with family. To save our life, they put their life at stake! They are the real warriors of the world. So salute them for their sacrifice.
Nurses play an important role as Covid-19 warriors. Corona warriors belong to people and people belong to them. Nurses work 24X7 in the hospital for us.
Their heart is clean as a mirror. Nurses do their best to save patient's life. They are working tirelessly every second. They don't get time for their own family in the Covid-19 period. Their family sleeps alone so that our family sleeps together.
Scientists do hard work and research in the lab almost 24X7 to find a vaccine for Covid-19. They work very hard to find effective vaccines. And finally, our scientists get success to make very effective vaccines.
Health workers work for the government to save our life from Covid-19. They work very hard For us.
Police had a nightmare in Covid-19. They always say "DON'T GO OUTSIDE" but some people didn't listen to them. Because of us, sometimes their situation becomes worse. They are on the road at such a high temperature and winter for us. So don't go outside.
If all people listen to corona warriors, we can defeat the deadliest and death-taking Covid-19.
Conclusion

(
Essay On Corona Warriors In English)
Corona warriors are the real superheroes of our world. The temples are closed but God exists in the form of corona warriors in our life against this situation. If corona warriors do their best, They will win so the world will win.
I'm saluting all the Covid-19 warriors in the whole world. So, I requesting you to support all Covid-19 warriors for our mother earth.
Read:
Speech On Corona Warriors In English For Students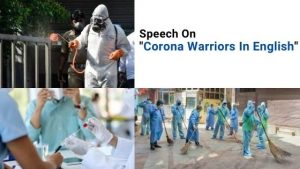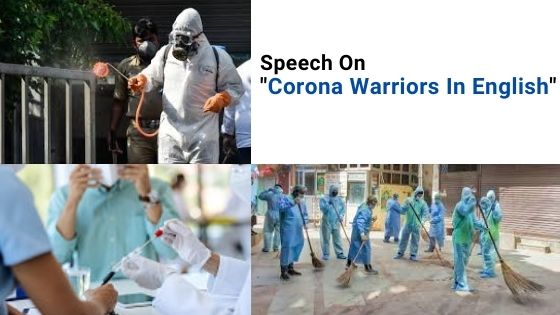 My Greetings to everyone present here. I'm Hari From Class… Today I want to say a few words about all the honorable Corona Warriors.
Corona Warriors are those people of our society who are selflessly serving people in this difficult Corona era. As you all know that the whole world is struggling with the corona epidemic today.
In such a difficult situation, the real heroes of the whole world are the Corona warriors, who are saving people from getting corona infected.
Doctors, policemen, and sweepers from all over the world including India are risking their lives to save the lives of people.
Our Corona warriors have not even met their families for so many days, they are giving their service wholeheartedly day and night. Many Corona warriors have lost their lives in front of this unseen enemy.
I really want to salute the Corona warriors. As they are now serving the country and repaying the debt to their country without worrying about their own, their family. I have noticed that the Corona Warriors stay away from family members even when they go home from duty.
But it is really sad to see attacks on police and doctors as well as health workers and corona warriors. In fact, Corona warriors have proved to be God to us in times of such crisis.
So we should not attack them and cooperate with them if possible. We should greet them with flowers so that their honor is preserved and they are encouraged to fight in this corona war.
Finally, I end my speech with these words: Nurses, Doctors, Police, Health Workers, and all the warriors who fought against Corona Pandemic. "A Big Salute to them…"
Thank You, Everyone, for Listening.
If any doubts regarding "Essay On Corona Warriors In English | Corona Warriors Essay In English", So… Comment.
Read: