Essay On Jal Shakti Abhiyan In English In 250+ Words
Hello, my Dear Friends… In this post "Essay On Jal Shakti Abhiyan In English", we will read about Jal Shakti Abhiyan as an Essay with In-depth Analysis.
Note- This is the Descriptive Essay on Jal Shakti Abhiyan more than 500+ Words you can adjust its length according to your own requirement.
Let's Start…  Essay On Jal Shakti Abhiyan In English
India is facing the worst water crisis in its history, And millions of life and livelihood are under serious threat. therefore, the Government of India decided to launch "Jal Shakti Abhiyan" which is a campaign for water conservation and water security.
Jal Shakti Abhiyan which has been launched by the government of India on the 1st of July 2019. Recently, the Government of India
has been named The
Ministry of Water Resources, River Development, and Ganga Rejuvenation
as
Ministry Of "Jal Shakti"
.
So, now the government is fully aware that in a mission mode
 the country will have to work for the
conservation of water
to ensure a
water crisis
.
As far as "Jal Shakti Abhiyan" is concerned, this campaign will run through citizen participation in 2 phases.
Phase 1: 1st July – 15th Sep
Phase 2: 1st Oct – 30 Nov
Read:
These 2 phases come under the monsoon season and most parts of the country receive rainfall
during this season. And phase two of this program will be from
1st of October, 2019
to
30 November 2019
.
And this will be primarily in those States which are receiving North-East retreating monsoon. The focus of the campaign will be on those districts and blocks which are water stresses.
And this program will primarily be focused on accelerated water harvesting under the principal catch it where it falls. So rainwater harvesting is one of the key focus under "Jal Shakti Abhiyan".
The first focus area of this campaign is Accelerated Water Harvesting and the second focus area of "Jal Shakti Abhiyan" is the Restoration of forest and afforestation.
The third focus area of Jal Shakti Abhiyan is the Integrated Watershed Management Program and the fourth focused area is Conservation & Bore Well
Recharge Activities
which are already being carried out under the
(MGNREGS)
Mahatma Gandhi National Rural Employment Guarantee Scheme
.
Finally, the focus of this "Jal Shakti Abhiyan"
is
Accelerated Water Harvesting, Restoration of Forest and Afforestation, Integrated Watershed Management, and conservation & bore well recharge activities
.
The most unique feature of this program is that water is a subject of state but this campaign will be coordinated by 256 IAS officer who is presently on Central deputation and they are in the rank of joint secretary and additional secretary level.
And these Central IAS officer will co-ordinate the program in 256 water-stressed districts in India. so, this is the uniqueness of this program.
Read:
The design of this program resembles "Gram Swaraj Abhiyan" in which Central officials monitor the implementation of seven flag-ship Development Scheme in 117 aspirational districts across the country.
So, after seeing the success in "Gram Swaraj Abhiyan", this time our government thought that if we will put on the job some senior IAS officer to coordinate the campaign in the district, then this "Jal Shakti Abhiyan" definitely got its success.
So, I would really appreciate this program and in the initial days, the manner in which it has been launched, created and awareness among people, and the manner in which people got associated in the program, Definitely this year we are going to harvest rainwater better
.
We will take a big step forward in integrated watershed management, afforestation, Restoration of forests and all these together will help India to deal with the water crisis through a focus on water conservation and water security.
Such kind of campaign or scheme can never be successful with the initiative of government only,
People's participation is very important and every stakeholder will have to participate in their own way even if there is a feeling among the people that they have to do something for better conservation of water.
This helps us deal with the water crisis in India.
Note: If this post is helpful for you…So, For Help me, please click on ads at least one time and spent some time.
If you have any questions related to this post "Essay On Jal Shakti Abhiyan In English In 250+ Words", Then comment.
Thank You For Reading "Essay On Jal Shakti Abhiyan In English In 250+ Words".
Read:
Special Intervention Areas Under The "Jal Shakti Abhiyan"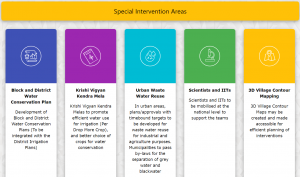 Essay On Jal Shakti Abhiyan UPSC: Addtional Information