Essay On New Education Policy 2020
In this post, we will read about the "Essay on New Education Policy 2020" in very interesting and detail. which helps to understand deeply about NEP 2020. this is the collection of "Top 5+ Essay On New Education Policy 2020 In English 300|250+ Words". So…
Let's Start…
Essay On New Education Policy 2020 In 1500+ Words
Introduction 
On July 29, 2020 (Wednesday), the New Education policy 2020 was launched.
The aim of this policy is to overhaul the education system of our country and it is approved by Union Cabinet.
The New Education Policy 2020, was announced by Human Resource Development (HRD) Ramesh Pokhriyal and Union Ministers for Information and Broadcasting (I&B) Prakash Javedkar.
---
Body
India's First Education Policy came under the Indira Gandhi government in 1968 and India's Second Education Policy came in 1986 under the Rajiv Gandhi government,
Which was modified in 1992 during the time of the P.V. Narasimha Rao government and now after 34 years, India's New Education Policy 2020 has come.
In 2014, the New Education Policy was in BJP's manifesto. In 2015, a committee was formed, under the chairmanship of TSR Subramanian and this committee submitted its report on 7th May 2016.
The main objective of this committee was to improve the quality of education, the credibility of education, and addressing the gaps in implementation and the Ministry released this draft policy in 2016, but it could not apply.
After this, another committee of 9 members was formed under the chairmanship of former ISRO Chief Dr. K Kasturirangan and this committee drafted the National Education Policy in 2019 which was finally passed as the New Education Policy 2020.
On 1st May 2020, The New Education Policy 2020 was reviewed by Prime Minister Mr.Narendra Modi, for which draft was prepared by a panel of experts led by former (ISRO) Chief K Kasturirangan.
By 2040, the aim of this policy was to convert all higher education institutions (HEIs) is to become multidisciplinary institutions and the aim of each institution is to have 3000 or more students.
The Focus of NEP 2020 is to increase the standards of education at an international level.
By the implementation, it's effectively our country to take J-Curve growth in all sectors. so, it is also known as the globalization of education.
---
Read Also:
Essay On Farm Bill 2020 | Farm Bill 2020 Essay | Agriculture Bill Essay
Essay On Aatma Nirbhar Bharat In 1500+ Words
The New Education Policy 2020 focuses on the development of all factors with education, such as skill development, coding, music, project and involves everything which helps to grow overall personality students.
By the implementation of NEP 2020 affordable fees are also applicable in all schools and colleges. which helps lower-class families so that they also educate their children.
By 2030, the aim of the New Education Policy is to established at least one large multidisciplinary institution in or near every district.
A multidisciplinary institution means a university that offers graduate and undergraduate programs, with high-quality teaching, research, and community engagement. Arts and Humanities students aim to learn more about Science.
By implementing this feature dropouts can come back again and be able to continue their study. and its bad effect also can be seen as the lack of seriousness in students with respect to their college.
The New Education Policy 2020 increases the flexibility of education. according to this policy, students have the option to choose their subjects during their study.
Hence, the Multiple entries or exit model increases the flexibility of education but it also decreases the value of our college(because students have the option to join them again). overall it's better for our education.
Undergraduate degree courses will be of either 3 or 4-year duration, with multiple exiting options. A certificate course after completing one year in a discipline or field, including vocational and professional areas.
Or a diploma after 2 years of study, Or a bachelor's degree after a 3 yrs program. After a 4-year multidisciplinary Bachelor's Program. However, shall be the preferred option.
According to NEP 2020, the digital credit system would be established .it is also known as the Academic Bank Of Credit (ABC).
The aims of New Education Policy 2020 are to make India a global study destination providing the best education at very low or affordable costs.
An international student's office at each institution hosting foreign students will be set up.
Now HRD Ministry is known as Education Ministry. Means HRD Ministry is replaced by the Education Ministry.
Now our High performing Indian Universities are also able to set up campuses in other countries.
Selected Universities such as those from among the top 100 universities in the world will be facilitated to operate in India.
The National Committee for the Integration of Vocational Education (NCIVE) is established by the education ministry.
A National Research Foundation (NRF) will be established. The aim of NRF is to promote the culture of research through Universities. India has more than 45,000 affiliated colleges.
And it will be governed independently of the government, by the Board of Governors in which includes the best researchers and innovators across fields.
Read:
Essay On Self-Reliant India Mission In English Step by Step | UPSC
Essay On Farmers Protest In India | Farmers Protest Essay In English
The set up of an Indian Institute of Translation and Interpretation (IITI) is the aim of NEP. while also laying significant and other languages.
Students can learn e-content in their regional language with Hindi and English. E-courses in eight major languages, not just English and Hindi.
For the student who is above the age of 8 yrs, a National Curricular and Pedagogical Framework for Early Childhood Care and Education (NCPFECCE) is developed by NCERT.
From class 6th students can learn coding in school, which is one of the required skills of the 21st century. 10+2 education system is also replaced by 5+3+3+4  models.
---
To decrease the value and stress of the board exam, it will conduct in two parts: Objective and Subjective.
The exam will be conducted twice a year. In Board Exam, practical knowledge should be promoted rather than rote learning.
Now, the student obtains a 360-degree holistic report card on the basis of their skills, obtained marks in the exam, and also includes all other points.
One special section introduced in which students give marks to themselves and their friends also gives marks which are displayed on the report card properly.
The high-quality common aptitude test and specialized common subject exams in the sciences, humanities languages, arts, and the vocational subject are offered by National Testing Agency (NTA), at least twice every year for university entrance exams.
Due to COVID-19 schools and colleges are closed across the world. so, for making balance distance learning, e-learning, online courses, and virtual learning is also encouraged.
Now technology-based options such as online courses/modules, dedicated apps, TV channels are to be developed. Hence, Overall technology-based education is preferred.
Prior to the age of five, every child will move to a "Preparatory Class" (that is, before class 1st), which has an EECE- qualified teacher.
The Ministry of Human Resources Development (MHRD) will create a National Mission on Fundamental Literacy and Numbering on Priority.
The nutrition and health (Including mental health) of children will be addressed, through healthy meals and regular health checkups, and Health cards are given to supervise the same.
---
CONCLUSION (Essay On New Education Policy 2020)
The 2020 New Education Policy aims to make "India a global superpower of knowledge".
If you have any queries regarding the Essay on New Education Policy 2020, please mentions them in the comment section…
Also Read:
Essay On Bank Fraud In India | Bank Frauds Essay In 500+ Words
Essay On PM-KISAN Scheme Samman Nidhi Yojna In 1000+ Words
---
Essay On New Education Policy 2020 In 300 Words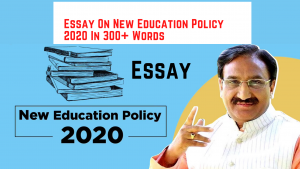 Essay On National Education Policy 2020 In 300 Words
Hello My Dear Friend, here we will read Short Essay On New Education Policy or we can say Essay on New Education Policy In 300 Words.
In this section, we will cover the highlights of the new education policy as an Essay.
The aim of the National Education Policy 2020 is to introduce several changes from the school to college level in the Indian education system.
And with this India has to be made "A Global Knowledge Superpower".
National Education Policy 2020 is the first policy of independent India, which has been made keeping in mind the students.
Till now teachers and parents used to choose what kind of education to give to children,
But under the new education policy 2020, children have got more freedom now that they can choose the subject according to their choice.
The new education policy 2020 talks about the universalization of education, Which means that the same education should be provided all over India, whether it is a government school or a private school.
Under the new Education Policy 2020, there is a greater emphasis on the factor that reduces dropouts.
Read:
Essay On Impact Of Covid-19 On Environment In 700+ Words
Essay On Online Classes During Lockdown | Online Classes Essay
And in this policy, it has also been said that how to prepare educational institutions on the basis of research, Finally so that we can be ready for our future.
Under the National Education Policy 2020, students from class 6 must-have 21st-century skills.
They should be included in education so that children can be prepared according to the 21st century.
Vocational skills have also been given important value under this policy, As a result of vocational skills, children can also do a part-time job during their graduation.
Multiple entries or exit models have been kept for higher education, Under which students can discontinue their studies in any year during college and they can also join them again.
If students exit after the first year of their college, they will get a certificate, And after 2nd year, he will get diploma degree, and after the third year he exits, he will get bachelor's degree,
And after completing the final four years, you will get a bachelor's degree + Research Certificate.
Read:
Essay On Garib Kalyan Rojgar Abhiyan In 700+ Words
Essay On Impact Of Covid-19 On Education In 500+ Words
---
Essay On New Education Policy 2020 In 500+ Words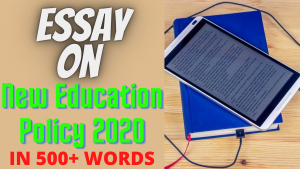 "You can change the whole world through Education,"  Nelson Mandela said.
The above line explains education very well.
The aim of Education is to increase cognitive knowledge as well as behavioral knowledge in every section of society.
In fact, If the condition of any society, country is to be understood comprehensively and at the ground level, then it can be determined by the proportion of literate people there.
In fact, with the objective of making India a global knowledge superpower, the national education policy 2020 was brought out.
The initial objectives of this are not only to make education the basic knowledge but also to develop intellectual and behavioral abilities.
Although this is not the first time, the first and second education policy was envisaged respectively in 1968 and 1986.
The present education policy is the third education policy after India's Independence which came into existence after almost three decades. this Education Policy was proposed by the Kasturirangan committee.
In order to understand the features of the current Education Policy 2020, various provisions of this will have to be interpreted on the basis of which we will evaluate whether the national education policy 2020 is progressive or not…
Many changes were made in the national education policy 2020, such as the 5+ 3 + 3 + 4 system is being adopted in place of the earlier 10+2 formula.
It has been said that the mother tongue should be done at the primary level so that children's progressive and strong ideas will be formed towards the mother tongue.
Read:
Essay On PM-KISAN Scheme Samman Nidhi Yojna In 1000+ Words
Essay On Independence Day (15 August) In 1000+ Words
The new education policy traditionally calls for replacing the Ministry of Human Resources Development (MHRD) with the ministry of education.
From preschool to secondary level with 100% Gross Enrollment Ratio in school education by 2030 will be done.
In fact, almost 4.6% of GDP is being borne in education so for, now it is being talked about increasing is to 6%. so that there can be transparency in education.
A system called "PARAKH" is being developed to comprehensively assess students.
While making changes in the field of education, some major changes have been made in the field of education.
Now the system used in abroad with four years system, example certificate will be given on completion of one year, diploma on completion of two years,  Bachelor's degree on completion of 3 years and Bachelor's degree with Research certificate on completion of 4 years will also be provided.
By the Multiple Entry Or Exit System, If anyone leaves their courses in between then in this case they will also get credit transfer in their Academic Bank Of Credit (ABC) and also get the opportunity to join the courses again.
HECI will be replaced in place of the current monitoring organization U.G.C, which will promote transparency, fairness, and accountability.
However, in view of the provisions of the national education policy 2020, many challenges are also clearly visible.
First of all the biggest problem in the new education policy is its trilingual formula.
On which there is a dispute in many states especially in Southern Tamil Nadu, Andhra Pradesh, and Kerala, etc.
Second, there remains a problem in its implementation, states like West Bengal and Tamil Nadu have said that the states have not taken consent on the draft of the policy, etc.
If we look at the NEP 2020 from the perspective of socio-economic and cultural aspects, then we see a very exciting and progressive vision of the future, but if we see its challenges then there is a difficulty in its implementation.
Therefore, if India has to prove the concept of "new India" in the era of widespread competitiveness from the perspective of the 21st century.
Then For this NEP will prove to be a milestone but for this, the challenges faced in the implementation of education policy will have to be assimilated and the center and the states should be creative and harmonious at their level.
Read:
Essay On Aatma Nirbhar Bharat Swatantra Bharat In 1500+ Words
Short Essay On Women Empowerment
---
Essay On National Education Policy 2020 In 150+ Words
The National Education Policy 2020 has been approved by the Union Cabinet on 29th July 2020 to overhaul the country's education system.
Under the NEP 2020,  provision is being made that expenditure of GDP in India is currently 4.6% to be increased to 6%.
There are many features of NEP 2020, of which the following are such as Development of Bharat Centric Education, Focused on Holistic Education, Development of Knowledge-Based Society, Emphasis on Quality Education.
The NEP is an ambitious document, which is focused on the Holistic and overall development of students to make them Aatmanirbhar and to enable them to compete with the world.
Under the NEP, students will be given practical knowledge and skill-based education along with the syllabus written in the test book
For the all-round development of the nation and citizens, not only a degree but a knowledge-based society is needed.
Read:
Essay On Farm Bill 2020 Step by Step In 2100+ Words
Top 3+ Letter On New Education Policy 2020
---
Speech On "New Education Policy 2020" In English
Hello everyone, I am "Hari Sahani" I am a student of class 10th in "Saraswati Vidya Mandir School".
Today I want to express my views about the "New Education Policy 2020" brought by the government of India.
As you all know, the new education policy has been announced by Central Government on 29 July 2020.
After 34 years, such an education policy has come, which will truly change the direction of education in India.
This education policy has the potential to give Indian education a global identity.
It aims to fulfill the goal of India's "Sustainable Development Agenda 2030" under which everyone will be provided with equal and quality education.
Which will provide lifelong employment opportunities. the new education policy will promote self-sufficiency by removing unemployment, which will lead the country to move on the path of development.
The best feature of this education policy is that after its implementation, students will be given vocational training from class 6 onwards.
Which will promote employment education and build a knowledge-based society.
NEP aiming to raise the overall quality of education offered by most Institutions Students who receive such an education will not just be employable but will also have the opportunity to become entrepreneurs.
In this way, it would not be wrong to say that if the new education policy is implemented property then it will prove to be an ideal education policy. at last, I end my speech with these words…
"Education is Liberation, Knowledge Is Power"
Thank you…
If you want a speech on any other topic like "speech on new education policy", then comment. Finally, If you want an essay on any other topic, then you can comment till then Jai Hind Vande Mataram.
---
Read:
Short And Long Essay On Online Classes | Online Classes Essay
Essay On Coronavirus In English In 500+ Words
FAQs 
To increase the flexibility in education
To increase the literacy rate
HRD ministry has now renamed the ministry of education.
To increase the GDP Investments in education from 1.6% to 6%.
To increase the Gross Enrollment Ratio up to 50% by 2035.
The most important key feature of New Education Policy 2020 is that Our existing structure of 10 + 2 has been breakdown into 5 + 3 + 3 + 4 structures.
Students to learn coding from class six.
Mother tongue to be a medium of instruction till 5th grade.
360 ° Holistic Progress Card will be made in which the students' academic, practical, curricular, co-curricular will be given equal value.
New Education Policy 2020 is the form of an initiative that is taken by our Government to reform the Indian Education System. and it makes education more flexible as well as accessible.
The New Education Policy 2020 has been prepared by a team of 9 members, under the chairmanship of Dr. K. Kasturirangan.
Due to increase the in Flexibility in Education, New Education Policy 2020 is good for all students who are serious about their carrier. On the other hand, due to multiple entries and exit systems, the seriousness of education may be decreased among students.
Read: