Essay On Work From Home Boon Or Bane | Work From Home Essay
Hello Friend, In this post "Essay On Work From Home Boon Or Bane | Work From Home Essay", we will read about Work From Home as an Essay in detail, with different words. So…
Let's Start…
Essay On Work From Home Boon Or Bane
Let's begin with the advantages. Perhaps the biggest benefit is that people can work flexible hours especially for women who have young children.
Many of them otherwise quit their job after the birth of their children to look after them. Moreover, male employees also benefit from working from home as they can save hours to commute to work and home back, improving their work-life balance and overall sense of wellbeing.
Further, employers also benefit from this arrangement. When employees work from their homes, the cost of running the business comes down.
On the other hand, there are a few challenges as well. Employees working from home may have difficulty building a rapport with others in their team, creating a lack of coordination among themselves.
Further, workers may find it difficult to get instant support from each other when problems arise leading to total chaos in the work schedules. Worse! This lack of apathy towards each other may be also reflected towards the customer which can lead to the ultimate destruction of a reputation for the company.
To summarise, there are several benefits to working from home including the freedom to individual employees. Many employers have already realized this and started encouraging their workers to work from home, of course, with some precautionary measures against downfalls of lack of communication and subsequent disasters.
Read:
Essay On Work From Home During Lockdown OR Essay On Work From Home During Pandemic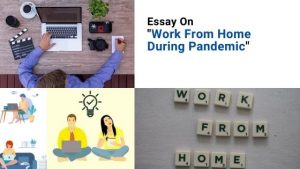 "Work for a cause, not for applause. Live life to express, not to impress. Don't strive to make your presence noticed just make your absence felt ". These lines suit those people who are working from their homes or teleworking today.
Today the world is facing the Coronavirus crisis, a pandemic that has changed our life. People are locked in their homes due to the spread of COVID -19 a disease that spread through person-to-person contact. In this situation, it is important to limit our contact with other people as much as possible.
Most people feel better working from home instead of traveling to a workplace every day. It saves time and travel expenses. Due to working from home or teleworking, people get more time for themselves and for their work.
Their minimum traveling reduces environmental pollution, and they do not require to stand in a traffic jam. They can decide when to do their work and when to take a rest. Working from home is effective for a lot of people because they get more time to spend with their family.
There are still some disadvantages of working from home. Social distancing doesn't suit our nature. "Man is a social being

," said Aristotle a famous philosopher. Due to the rapid spread of Coronavirus, most of the global population is experiencing isolation.
This loneliness can create mental and physical health issues. Working from home reduces face to face interactions among colleagues.
Direct interactions among colleagues create personal connections and strengthen healthily working relationships.
A positive change is happening around us because of social distancing and work from home that the people are embracing during this pandemic of COVID-19. But it will be too early to speak of long-term changes.
Working from home is better because its advantages overcome the disadvantages.
Read:
Essay On Work From Home Culture
Working from home is a convenient method for the professional to work in their home. According to this pandemic situation, professionals need a remote job.
As we review the work culture as a 9 to 5 job. How difficult and complex, in rushing to the office in traffic
and the
climatic condition
such as the rainy season.
Therefore, professionals got a wonderful opportunity to work from home. Now a day office culture is eradicated. New and amazing work culture is introduced as a remote job or work from home.
Professional can work in their leisure. Those who are professional learn to keep their work busier in the home. That, they can get appreciation from the company.
Read:
Essay On Work From Home Pros and Cons
A basic requirement of a human's life is bread, cloth, and house and to fulfill all these requirements money is required and money can be obtained only from a business.
No person can live life without earning money. money is essential needed to survive in the world. a person undertakes a variety of jobs or occupations to earn a living.
Whether it is in the economic field or political, religious, or academic field. Because it is said that man is a social animal. but in the present time, the definition seems to be changing.
Today, an epidemic called corona has spread all over the world. looking at the same, there, there is a danger in the whole areas. due to which many tasks are being completed by staying at home. In a way, man is able to do the work of his office and business smoothly from home.
Working from home doesn't mean you lose the sense of professionalism. It means you have to create a warm work environment to become more productive than ever.
Working from home can sound like a dream come true. however, like any job situation, there are many disadvantages to home employment that may become apparent over time. for some, this can mean making a few adjustments to make the situation more tolerable.
For others, the disadvantages can be so powerful that they can put an end to the home office. Just as there are two sides to a coin there are two sides to every story. similarly, there are some positive aspects of work from home.
First, saving time in a person's life, that is, when a person goes out of the house to work, he had to face problems of congestion, traffic, jam, etc. but now it fits the exact saying kill two birds with a single stone

.
That is, the money spent on traveling is also saved. and the most important problem was fuel savings for the future..i.e, 24 hours carts roomed the roads with more than half of the people employed.
So, the fuel that wasted on the roads also pollutes the environment was completely balanced. now let's see how the negative impact of coins is challenging for us.
First of all, social interactions decreases, loneliness increases, mental as well as physical problem increased, expressing ability decrease, etc.
Another important challenge is that work from home is not possible in every area. like if we, work in the educational field, there are many children who are not even familiar with something called online.
So what is the benefit of the teacher working from home due to which the development of all is not happening simultaneously?
The promotion of many people has stopped in this system working from home seems dull, the ability to work is seen to be destroyed soon. which mental fatigue has become a significant challenge. Successfully working from home is a skill, just like programming, designing, or writing. it takes time to develop that skill.
If any doubts regarding "Essay On Work From Home Boon Or Bane | Work From Home Essay", So…Please comment.
Thanks For Reading "Essay On Work From Home Boon Or Bane | Work From Home Essay".
Read:
Solved Queries:
Essay On Work From Home During Lockdown, Essay On Work From Home Pros and Cons, Essay On Work From Home During Pandemic, Essay On Work From Home Culture, Essay On Work From Home Is the new way of life