Essay on Diwali In English For Students
Hello My Dear Friends Jai Hind,  In the Essay on Diwali In English, we will read about an important Hindu festival known as "Diwali" in detail. So…
Let's Start…
Essay on Diwali In English For Students
India is a country of festivals. here many religious festivals are celebrated. one of them is Diwali.
Diwali is one of the biggest festivals that is celebrated in India.
This festival is also known as the 'Festival of lights as well as 'Deepawali'.
Diwali symbolizes the victory of good over evil.
People clean their houses and get them painted a few days prior to Diwali.
Houses, shops, and all other buildings are decorated with colorful lights and earthen lamps(Diyas) at night.
Some people make rangoli in their homes and decorate their houses with light and flowers. Rangoli decoration is a common sight on this day.
On Diwali day, people buy sweets and fruits. and they send gifts to their relatives and friends.
People wear new dresses and  Everyone is in a good mood at this festival.
Diwali is celebrated in the month of October-November, In the Hindu calendar, it is celebrated in the month of Kartik on the night of Amavasya. 
Read:
On this day, It marks the memory of the return of Lord Rama with Sita to his kingdom  Ayodhya after 14 years of exile. during which Rama defeated the demon Ravana.
On this occasion, the people of Ayodhya welcomed them and shown their happiness by lighting lamps and candles in the whole kingdom.
It is one of the favorite festivals of everyone. and it celebrated all over India.
Peoples celebrates this festival with great joy and happiness. people enlighten their whole house and specially villager enlightens their house as well as their farming fields with clay Diyas.
Children get long school holidays to celebrate Diwali.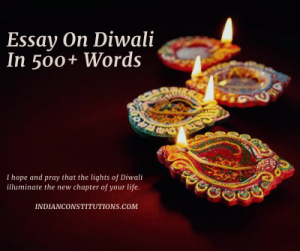 Diwali festival basically starts with Dhanteras. Which is from the 2 days before the festival of Diwali. On Dhanteras people also do a lot of Diwali shopping, buy new products such as silver, gold, utensils, etc.
One day before comes Choti Diwali is also known as Narak Chaturdashi.
The demon Narakasura was also killed on this day by Krishna, Satyabhama, and kali.
Laxmi puja falls on Amavasya of Krishna paksha in the month of Ashwin, people worship the goddess of wealth "Lakshmi" on this day.
The next day is Diwali itself. on this day people worship Laxmi and lord Ganesha for prosperity.
They distribute sweets to friends and family. people also enjoy the firework at night. children burst crackers on this day.
The next day is Govardhan puja. people worshipped Lord Krishna on this day.
After Goverdhan puja comes Bhaiya Dooj. At this festival, sisters perform puja, do 'tika' ceremony and pray to god for long and prosperous lives for their brothers.
This is the festival of Diwali which is the favorite festival of almost every Hindu individual. this festival indicates the victory of good over evil power.
This festival gives us a very good lesson about winning well over evil. Finally, this festival gives a message of love and brotherhood. Diwali brings us closer to our near and dear ones. Now in this digital era, everyone wishes to their friends as well as relatives on social media.
If you have any queries regarding the "Essay on Diwali In English". so, please mentions it in the comment section.
Must Read: