Essay On Online Classes During Lockdown
Hello Friends Jai Hind, In this post "Essay On Online Classes During Lockdown | Online Classes Essay", We will read about Online Classes During Lockdown as an Essay In detail with Benefits, Advantages, And Disadvantages, etc.
Let's Start…
Essay On Online Classes During Lockdown
For the first time ever schools in India have moved as online classes. Educational institutions had to adjust their teaching practices through online mode.
All my teachers are trying their best to clear all my doubts. After explaining the lesson, our teachers provide us with notes of the chapter and assign us online homework.
The peoples of our country, our school's students, and children and their parents had felt the impact of shutdown school and educational institutions.
Online classes via Skype, Zoom, Youtube, Google blog, etc are really helpful for everyone in society especially children as they are benefited from the same purpose and learning.
This is helping the teachers too as they get to communicate with their students and share knowledge.  Adjusting learning into the existing schedule is one of the best advantages of online classes
.
In my opinion, a physical classroom is much more effective than online learning. But these classes have helped me to keep up with my studies and disciplined me towards learning.
This has also inspired me to explore new digital learning tools. So I find my experience of online classes helpful.
The exams are held online. A couple of times, there are some issues relating to the poor quality of internet connection. I really miss the traditional classes and interacting with my teachers and class-mates.
Read:
Short Essay On Online Classes During Lockdown In 200+ Words
Online classes during lockdown are very much necessary in today's "Corona" time.
The students are now being taught through this online mode only. Teachers are trying so much to motivate students and involve them in online classes.
During this lockdown period, the teachers and students interacting as it happened earlier in a traditional classroom are not possible now. the student also misses their classmates, friends very much.
First of all, the teachers are making a group of students on WhatsApp then send a link to join the various online meeting apps such as zoom, Jio meets, Google meets, etc. The teacher then shares the screen with students of various topics. it can be audio as well as video.
They also, explain different chapters on various subjects. the teachers are really giving time which is appreciable. they are trying to clarify the doubts of students
even though this live chatting.
To make every student indulge in online classes is really a work of patience. the teachers tolerate every kind of indiscipline occurred due to students.
As the duration of the online classes is increasing, it has become a hectic schedule for both teachers and students.
due to this, the side effects of headaches and eye problems are prevalent. still, the teachers are putting tremendous effort and working hard to guide students.
Read:
Essay On Experience Of Online Classes During the Lockdown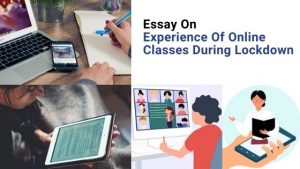 Due to this pandemic lockdown implemented all over the world. during the lockdown, everything is closed. all schools and colleges are closed regarding safety purposes.
It is my first experience when I am staying at a home long time. In starting days I felt very happy because I did not have to go to school but after few days my online classes started and I attend them regularly and my studies go on very well.
Online classes are like live classes where all students ask their queries and the teacher resolves them at same as traditional classes.
Online classes are amazing at it give us an opportunity to study like before without worrying about our safety.
We definitely enjoy our classes going and also appreciated the efforts made by our teachers and staff in arranging it.
These online classes also have their extra activity session where we get to interact with personalities having talents in various fields and they motivate and encourage us all.
We often play games online like GK quiz, and trick maths puzzles, etc. which are really funny and interesting. These online classes are also in shorter duration as compared to traditional classes.  that provide extra time to improve me on the other skills that I am interested in.
Note: If this post is helpful for you…So, For Help me, please click on ads at least one time and spent some time.
If you have any questions related to "Essay On Online Classes During Lockdown | Online Classes Essay", comment.
Thanks For Reading "Essay On Online Classes During Lockdown | Online Classes Essay".
Read:
FAQs
Solved Queries:-
online classes during the lockdown in India essay, the experience of online classes during the lockdown, benefits of online classes during the lockdown, advantages, and disadvantages of online classes during the lockdown