Essay On Ayushman Bharat Yojana
Hello Friends, In this Post "Essay On Ayushman Bharat Yojana | Ayushman Bharat Yojana Essay", we will read about Ayushman Bharat Yojana in detail with an In-Depth Analysis.
Note: In this Post, We will read Two "Essay On Ayushman Bharat Yojana", One Is 500+ Words And the second is 1500+ Words.
Let's Start…
Introduction

(Essay On Ayushman Bharat Yojana)
The Modi government announced the Ayushman Bharat Yojna in the 2018 budget and Prime Minister Narendra Modi launched Ayushman Bharat on 25 September 2018 on the birth anniversary of Deendayal Upadhyay.
Ayushman Bharat is a program sponsored by the Ministry of Health and Family Welfare. It includes two major health aspects, Health and Wellness Center and Pradhan Mantri Jan Arogya Yojana.
Primary health care of the public through health and wellness centers is a big responsibility of the Ayushman Bharat Scheme.
Under this scheme, on the principles of equity, affordability, and universality, about 20 lakh sub-centers and primary health centers are being converted into health and wellness centers by 2022.
Body

(Essay On Ayushman Bharat Yojana)
After the launch of Ayushman Bharat, the National Health Insurance Scheme and Senior Citizen Health Insurance Scheme also joined it.
Under Ayushman Bharat, the government provides health insurance cover up to ₹ 5 lakh per family per year.
There are about 50 crore beneficiaries of more than 10.74 crore poor and weak families across the country. All the families listed in the socio-economic cast census database are being covered as per the prescribed criteria.
There is no restriction on the size of the families and the age of the members. Girls, women, and senior citizens are given priority in this.
Free treatment is available in all government and private hospitals to the beneficiaries at the time of need.
Under this, 1350 medical packages covering the cost of surgery, and medicines, etc. have been included. It also covers all the pre-existing diseases.
Under this scheme, no public or private hospital can refuse treatment for any disease. Cashless and Paperless arrangements have been made for quality health care services.
And Hospitals will not be allowed to take any extra money from the beneficiaries for treatment. With this, beneficiaries can avail of these services anywhere across India, and 24 * 7 helpline number 14555 can be used for information, assistance, and complaint if needed.
Read:
Initiatives to promote the Ayushman Bharat program
Additional Human Resource Provision: Under this, a new professional cadre of health care workers has been prepared. Which is known as Mid Level Health Provider. They are often trained or recognized nurses or medical practitioners.
Training existing health workers: So that they can provide better modern facilities.
Improving drug delivery system: So that different types of medicines can reach the target.
Creating a strong IT system: To create health IDs and health records of all individuals and provision daily counseling services.
Provision of services related to the indigenous health system and yoga etc. to promote welfare.
Providing family planning, contraceptive services, and other reproductive health care services.
To manage communicable diseases including national health programs.
Checkup, prevention, control, and management of non-communicable diseases.
To arrange basic oral health care.
To provide emergency medical services and to check and basic management of mental health diseases.
Conclusion

(Essay On Ayushman Bharat Yojana)
At present, many popular people of the world have praised the ambitious Ayushman Bharat scheme of the government.
It also includes Microsoft founder and Gates Foundation chairman Bill Gates. He has expressed a pleasant surprise when more than 6 lakh patients have taken advantage of this scheme in 100 days of its launch.
At present, Ayushman Bharat is also being known as Modi Care. It is evident that Ayushman Bharat is becoming a stronger means of taking proper care of the people and their health day by day.
Note:- Now, we will read "Essay On Ayushman Bharat Yojana In 1500+ Words" with In-Depth Analysis… It's beneficial for all who have prepared for the Competitive Exams.
Read:
Essay On Ayushman Bharat Yojana In English In 1500+ Words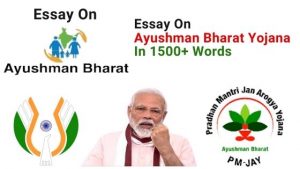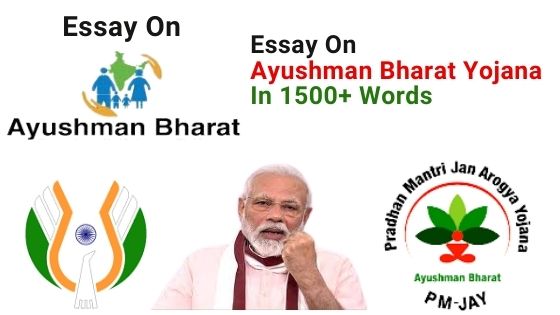 Ayushman Bharat Yojana is based on the principle of 'Survey Bhavantu Sukhinah, Survey Santu Niramaya'
There are two parts to this Scheme:
National Health Protection Scheme
Under this, Health Insurance up to ₹ 5 lakh per year will be provided to 10 crore families in the country on secondary and tertiary level hospitalization.
This will benefit 50 crore people, whereas, under the current National Health Insurance Scheme, poor families have an annual coverage of just ₹ 30 thousand.
States will have the option to adopt a trust model or an insurance company based model to implement this scheme but the trust model will be given priority. For this scheme, an allocation of two thousand crores has been made this year.
Health and Wellness Centers (Essay On Ayushman Bharat Yojana)
More than 1.5 lakh health and wellness centers will be opened across the country so that the health care system can be brought closer to people's homes. Extensive health care facilities will be provided at these centers. This includes taking care of maternal babies and non-infectious diseases etc.
Along with treatment at these centers, there will also be a provision for special training to control lifestyle-related diseases like high blood pressure, diabetes, and tension.
These centers will also provide necessary medicines and checkout services free of cost.  And the private sector has also been invited to adopt these centers through CSR and public welfare institutions.
A provision of Rs 1200 crore has been made for this scheme. The beneficiaries of Ayushman Bharat will be identified on the basis of the Socio-Economic Caste Census 2011.
To increase access to quality medical and health care, 24 new Government Medical Colleges and Hospitals will be established by upgrading existing district hospitals in the country.
Especially in rural areas, people are unable to get the benefit of tertiary level care facilities in India due to challenges related to lack of infrastructure and qualified medical professionals.
To meet these challenges, the availability of at least one medical college for every 3 parliamentary constituencies and at least one government medical college in each state of the country will be ensured.
Under this scheme, the cashless model has been adopted to make the recommended amount available to the beneficiaries. Under which the poor patients availing the scheme will be insured and if needed, cashless treatment will also be done.
These two health sector initiatives under Ayushman Bharat will create a new India by 2022. This will increase productivity and welfare and the loss and impoverishment of wages can be avoided.
These schemes will create lakhs of employment opportunities in the health sector, especially for women. This scheme will prove to be a game-changer in India's health sector.
It will be able to deal with challenges like operation, implementation of the health sector, labor force related, and grasping tendencies of corporate hospitals. Under this scheme, poor families will be able to get treatment not only in government but also in private hospitals.
This scheme will create greater awareness about health insurance among the people. And through this, public health will be improved by facing various challenges related to the primary, secondary, and tertiary sectors. It will also facilitate large private investment in the health sector at district and sub-divisional levels.
Read:
Needs and Challenges  Of Ayushman Bharat Yojana
India is a public welfare country that is committed to reducing inequality and India also needs a healthy India for development. But despite successfully placing itself on the global health map after independence, India has failed to meet the challenges related to health care services.
It is a paradox that while India is providing medical tourism opportunities to developed countries as well, 70% of the population of rural India is deprived of quality health care facilities. Even in urban areas, health facilities are not such that can meet the growing health needs in the country. The main reason behind all this is the insufficient availability of resources with government and non-government agencies.
There is less government expenditure on health care, currently, the health care expenditure being incurred by the government is about 1.5 percent of the total GDP whereas according to the National Health Policy 2017, the expenditure on health care is targeted to be around 2.5 percent of GDP.
Due to limited public health care facilities and low-quality services being provided by public hospitals, the dependency rate of people in India on the private sector is increasing which is currently very high.
There is a lack of effective monitoring mechanisms above the quality of health services provided by these private sectors and prescribed values ​​for medical treatment. Due to this, a large and inappropriate price gap is being created between private and government hospitals. Also, the availability of very low insurance in the country makes all these situations worse.
About 27 percent of people in India have health insurance coverage and the health-related expenses due to illness are the highest in the world. Lakhs of families in the country have to borrow or sell properties to get treatment after hospitalization.
According to the National Health Policy Document, more than 6.3 crore people in India fall into poverty every year due to overspending on health. This trend neutralizes important government schemes to reduce poverty and increase income.
To meet all these challenges, Ayushman Bharat Yojana has been brought in. It promises the country that no citizen will fall into the quagmire of poverty due to excess expenditure on health. hence, a country where the person will not be deprived of quality health care due to lack of money.
During this time, the challenge of making treatment cost-effective can also arise. There is also a possibility of exaggerating the cost of treatment by hospitals in the greed of overpayment, due to which this scheme can prove to be very expensive.
With this, cases of compromising medical standards can also come up in an attempt to make this scheme cost-effective. Therefore, the success of the scheme will depend to a large extent on whether medical standards are being followed along with cost-effectiveness.
One of the main challenges related to the scheme is to improve primary health services because if primary health services are in good condition, then the cost of health services at the second and third levels will be reduced and health services will be better.
Currently, Rs 2000 crore is required for this scheme and a further increase will be required in this budget. Along with this, the government has to ensure that the allocated amount is spent for the right purposes.
For its successful implementation, the central government will have to work closely with state governments and industries. Other challenges include identification of beneficiaries, registration, making cards available, and completing all other processes at the right time.
Read:
What is Universal Health Coverage?
Universal Health Coverage generally means that every person and community gets access to health services when they need them without any financial hassle.
These services range from health promotion to prevention and treatment, rehabilitation, and pain relief.
It ensures equal opportunity for citizens living in any part of the country to get quality, affordable, responsive, and appropriate healthcare without discrimination on the basis of income level, social level, gender, caste, or religion.
Universal Health Coverage is based on the WHO's 1948 constitution, which declares health as a fundamental right.
The WHO supports various countries in developing the health systems necessary to obtain Universal Health Coverage.
India is moving slowly towards providing universal health coverage to all its citizens through the Ayushman Bharat Scheme, which is one of the 17 Sustainable Development Goals set by the United Nations in 2015.
Thus, this scheme will help India in achieving the international commitment to achieve Universal Health Coverage by 2030.
Private Sector Contribution to Achieve Universal Health Coverage
Working closely with the public health care provider
This includes removing deficiencies related to infrastructure, investing in secondary and tertiary level healthcare facilities, and making new services and products familiar with the areas attached to the city.
This will expand access to health services and reduce the gap between quality care and health costs.
Supporting innovation for the healthcare sector by the private sector
This includes technology applications such as smartphone-based services, the use of telemedicine with the help of artificial satellites, etc. This includes training of health workers, quality certification, collection and sharing of data and preparation of monitoring framework, etc.
Investment by private sectors for the health care of employees is also included.
This includes investment by the private sectors towards the health of their employees.
Conclusion

(Essay On Ayushman Bharat Yojana)
Health insurance is a must for every Indian due to the low state of health infrastructure in India. And in countries where people have high health insurance coverage, their life expectancy is also high.
Taking a step towards achieving universal public health coverage through this scheme will mean to move towards equality, development priorities, and social inclusion and solidarity.
India's new National Health Policy 2017, which focuses on new diseases and preventive health facilities. It describes how the private sector can play the role of a strategic partner in providing health care. This can also help achieve universal health coverage.
Taking steps towards achieving universal health care, we can also take lessons from a developing country like Mexico.
How a middle-income country changed its health system and achieved universal health coverage in less than a decade, despite the various challenges present in the economic and health sector. All these health care challenges also exist in India, for which we can adopt Mexico as a role model.
This initiative by India is not just limited to personalized treatment-related services but is also linked to the principle of population-based services.
And according to IMF, looking at its potential, countries like Nepal and Afghanistan are also preparing to adopt this mechanism.
If you have any doubts related to "Essay On Ayushman Bharat Yojana | Ayushman Bharat Yojana Essay", Comment
Thank You For Reading "Essay On Ayushman Bharat Yojana | Ayushman Bharat Yojana Essay"
Essay On Ayushman Bharat Yojana By Dristi IAS…
Read: