Essay On Yogi Adityanath In 1000+ Words
Hello My Dear Friend, In this post "Essay On Yogi Adityanath", We will be going to read about Yogi Adityanath as an Essay in detail. So…
Let's Start…
Essay On Yogi Adityanath In 1000+ Words
Yogi Adityanath was born as Ajay Mohan Bisht in a Kshatriya family on 5 June 1972, in the village of Panchur, in Pauri Garhwal, Uttar Pradesh but now in Uttarakhand.
His father's name is Anand Singh Bisht. his father Anand Singh Bisht was a forest ranger. he was the second born in the family, among four brothers and three sisters.
He completed his bachelor's degree in mathematics from Hemwati Nandan Bahuguna Garhwal University in Uttarakhand.
Yogi Adityanath has kept all his books from childhood to BSC in the cupboard till now. Yogi Adityanath is very fond of animal birds. He goes to Gaushala every day after reciting Yoga and Pooja. he left his home around the 1990s to join the Ayodhya Ram Temple moment.
He renounced his family at the age of 21 and came under the influence of mahant avidyanath, the chief priest of the Gorakhnath math, and became his disciple. subsequently, he was given the name Yogi Aditya Nath.
Mahant Avaidyanath of Gorakhnath Math choose Yogi Adityanath as his political advisor on 15 February 1994 and a young Hindu leader in the country's politics, Yogi Adityanath was born.
He was appointed avidyanath successor as the Mahant of Gorakhnath Math in 1994. 4 years later in 1998, he was elected to the Lok Sabha.
Yogi Adityanath has strained relations with the BJP for many years. he was the youngest member of the 12th Lok Sabha at the age of 26. he has been elected to the parliament from Gorakhpur constituency for 5 consecutive terms in 1998 and 1999, 2004, 2009, and 2014 elections.
Yogi Aditya Nath is an Indian priest and a politician with an image as a Hindu nationalist firebrand, he is also the Mahant or head priest of the Gorakhnath Math, a Hindu temple in Gorakhpur.
Yogi Adityanath formed the Hindu Yuva Vahini organization which aims to protect the cow. Yogi Aditya Nath was a prominent campaigner of the Bhartiya Janata Party BJP in the 2017 assembly election in the state of Uttar Pradesh.
He was appointed Chief Minister, of the state on Saturday, 18 March 2017, and sworn the next day on 19 March after the BJP won the Assembly elections.
Must Read: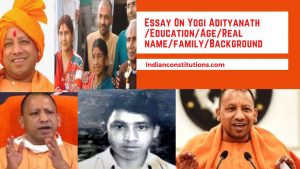 Yogi Adityanath is known for his ability to attract people with his fiery speech. Yogi Adityanath has formed the Anti-Romeo Squad which goes on a hunt to eliminate miscreants harassing girls studying in school and college.
The illegal slaughterhouses in UP faced a shutdown from the administration after his becoming the Chief minister.
He banned gutkha, tobacco, and pan in government offices across the state and pledged to all officials to contribute 100 hours every year to the Swachh Bharat Mission.
After Yogi Adityanath became the CM of UP, he kept around 36 ministries with him. In his first cabinet meeting on 4 April 2017 after Yogi Adityanath became the Chief Minister, he decided to forgive the debts of 87 lakh farmers of Uttar Pradesh, which amounted to Rs 363.59 billion.
Adityanath had 77% attendance in the Lok Sabha and has participated in 56 debates in which 284 questions were asked to him and he introduced 3 private member bills in the 16th Lok Sabha.
In 2008, Adityanath Yogi's convoy was attacked while conducting an anti-terrorism rally on the way to Azamgarh, in which 6 people were injured and one person was dead.
With the help of the Hindu Yuva Vahini and Gorakhnath Math, he built his own independent power base in eastern Uttar Pradesh. He felt assured that he could dictate the BJP 's terms.
When his voice was not heard he revolted by fielding candidates against the official BJP candidates. Despite his periodic revolts, Yogi Aditya Nath has been kept in good humor by the RSS and BJP leaders.
The deputy prime minister LK Advani, the RSS chief Rajendra Singh, and the VHP chief Ashok Singhal have visited him in Gorakhpur.
Yogi Adityanath first proposed a private bill in Parliament to ban cow slaughter in 2009 and then in 2014.
Yogi Adityanath also introduced a private bill in Parliament to change the name of the country. "India that is Bharat" to "Bharat that is Hindustan".
Yogi Adityanath wanted to create an organization for Hindutva apart from BJP and RSS.
On the one hand, at the same time when the BJP national executive was meeting in Lucknow, Yogi Adityanath organized the Virat Hindu Sammelan in Gorakhpur.
Yogi Adityanath wrote books called Yog, Hatha Yoga, Swaroop and Sadhana, Raj Yoga: Swaroop and Sadhana, and Hindu Nation Nepal.
Adityanath is also the editor-in-chief of Yogavani, an annual book to be published from the Gorakhnath temple.
Read
 Biography of Yogi Aditya Nath

If you have any queries related to "Essay On Yogi Adityanath".So, please mention it in the comment sections.
FAQ (Frequently Asked Questions)
Yogi Adityanath Education OR  Yogi Adityanath Qualification?
Yogi Adityanath completed Bachelor's Degree In Mathematics or we can say he completed BSc from Uttarakhand.
Yogi Adityanath's full name OR Yogi Adityanath's real name?
The full name or real name of Yogi Adityanath is Ajay Singh Bisht.
Yogi was born on 5th June 1972, so, finally, Yogi Adityanath's age Till 1st Jan 2021 is 48.5 years.
Yogi Adityanath Mother's name is Savitri Devi and their Father's name is Anand Bisht. and Ajay Singh is the 5th child of his parents among 7 siblings. Yogi is younger than 3 sisters and has an elder brother, And has 2 younger brothers.
Yogi Adityanath has 3 sisters.
Yogi Adityanath has 3 brothers.
Yogi Adityanath is a monk.
Yogi Adityanath Home-District?
Yogi Adityanath's home district is Pauri Garhwal In Uttrakhand.
If you like this "Essay On Yogi Adityanath In English". So, please subscribe to our blog.
Finally, Thanks For Reading "Essay On Yogi Adityanath".