Speech On Republic Day In English 2021
Instruction:- Hello my dear friends Jai Hind, In this post "Speech On Republic Day In English 2021″. we will read an interesting speech on 26th January 2021 or we can say speech on republic day In English for 2021. 
You can use it anywhere. But before use this speech on republic day, please change student name and class,
Let's start…
A very good morning to everyone, respected Principal, Teachers, Parents and all my Dear friends, My name is Hari Sahani and I am a student of class 12th.
Today I am standing in front of you to deliver a fabulous speech on the Republic day. Before moving forward, I would like to wish you all who are present here a very "HAPPY REPUBLIC DAY 2021".
As we all know, today we all are gathered here to celebrate the 72nd republic day of our country. Every year, On 26th January we solemnize republic day since 1950 because on this day our country got its constitution.
We got our independence on 15th August 1947 from British rule. however, the constitution of India came into existence after some times later on 26th January 1950.
"Republic" means that the people of our country holds the authority to elect their leader. Our constitution gives all of us the same right despite so many difference of caste, colour, religion or language.
Our constitution was written by Dr B.R Ambedkar and it is the largest written constitution in the world. So, Today is the day to be thankful for what he has done for our nation.
Read: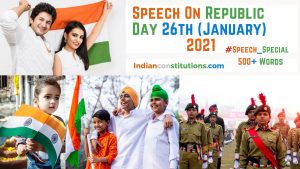 India became a secular and democratic country on this day, the Indian constitution gives us our fundamental rights such as freedom of speech, education and religion etc.
It is one of the national festivals of India and celebrated with great enthusiasm every year in the entire country. On the occasion of Republic day, We hoist our national flag and sing the national anthem.
Every year, this national event is celebrated with lots of joy and happiness to make this event colourful and memorable. Every citizen enjoys equal right irrespective their status, gender, religion, caste and colour etc are different.
We got the freedom after the continuous fighting against British domination. Many leaders sacrificed their lives for our independence.
In this day, we must remember our Freedom fighters like Mahatma Gandhi, Jawaharlal Nehru, Bhagat Singh, Subhash Chandra Bose, and many other leaders who fought against British for our freedom.
After getting our independence, Dr B.R Ambedkar was appointed as the chairman of the constitution drafting committee. After a lot of hard work, the constitution was finally drafted under his supervision.
Today, Special parade is held at Rajpath in New Delhi, and the entire country is decorated in tricolour and sheds lights on unity in diversity.
on this day we salute our tricolour flag and people, citizens and army who keep safe the flag and also the Pride of our nation.
Of course, the republic is the beauty of our nation. It is the greatest strength and greatest example in the world.
On this day, Let's show our respect and pride to the national constitution.  So let us all take on oath to work hard for our country's development.
Thank You "HAPPY REPUBLIC DAY 2021" Again…
If you like this post "Speech On Republic Day In English 2021", So, please subscribe to our blog to connect with us.
Thank you for reading. "Speech On Republic Day In English 2021″.
Read: