Essay on Women's Education in India in 1000+ Words
Hello My Dear Friend, In this post "Essay on Women's Education in India", We will be going to read about Women's Education In India in an Essay in detail. So…
Let's Start…
Essay on Women's Education in India
Women's Education In India plays a very significant role in the overall development of the country.
It not only helps with the development of half the human resources but in improving the quality of life at home and outside. India is a developing country.
Moreover, it is one of the largest democracies. from the day of Independence, our country has had extraordinary development in all fields.
Women's education in India has been one of the major issues of concern for the government of India as well as society. It is because of the fact that today educated women play a very significant role in the overall development and progress of the country. 
Women hold a prominent position in Indian society as well as all over the world.
Educated women not only tend to promote education for their girl children but can also provide better guidance to all or any of their children.
Moreover educated women also can help in the reduction of the infant mortality rate and the growth of the population.
Women's education is the most effective way to improve the lives and health of a family and society.
It empowers with the ability to think, reason, take appropriate decisions, and protect oneself from oppression and abuse.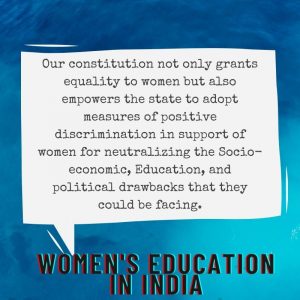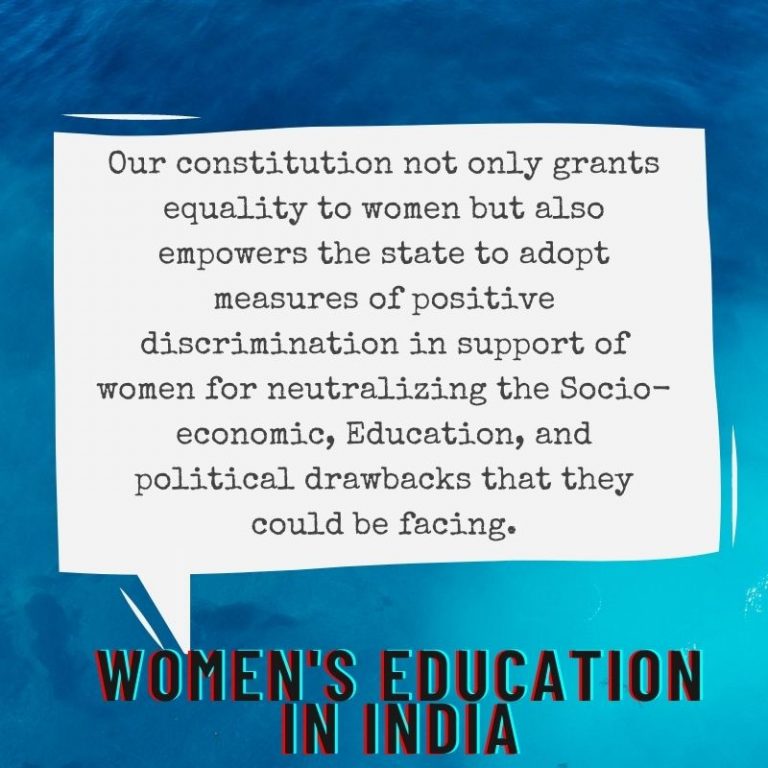 Literacy Rate of Women's Education in India
| | |
| --- | --- |
|                 Total literacy rate |               Female literacy rate |
|                             74% |                                65.5% |
                                   Enrollment in Education (Census-2011)
Primary Education

| | |
| --- | --- |
|       Total |    Female |
|        93% |     68% |

Secondary Education

Post-Secondary  Education
Also, read:
Major Recommendations of Commissions for Women's Education in India
The Indian Education Commission (1882):- "It can be seen that there is still an extremely backward condition for female education.". For the spread of women's education, the commission made some important recommendations government should give more liberal grants to private girls' schools. Establishment of Normal School for Training of Women Teachers. school fees should be normal.
University Education Commission (1952-53):- "They shall not try to imitate men but shall desire as good education as women as men get as men. Women's and Men's education should have many elements in common, but shouldn't, generally, be identical in all respects."

Secondary Education Commission (1952-53):- This Commission states that "our constitution has guaranteed equal rights for both the sexes in all works of life (Section 16 A). So every type of education open to men should also be open to women. women have made their mark almost in all the fields which generation ago would have been considered as unsuitable for them."
In 1959 under the chairmanship of Sm. Durgabai Deshmukh the National Council for Women's Education was established… A special unit was opened in the central ministry of education to look after women's education.
In 1961 under the chairmanship of Sm. Hansa Mehta the National Council for Women's Education appointed a committee to solve the problem of a separate syllabus for girls.
The Education Commission (1964-66) fully endorsed and advocated the earliest and fullest implementation of the above committees.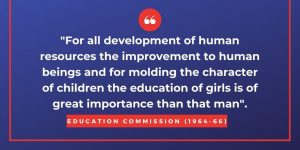 The National Education Policy (1968):- The education for girls should receive emphasis, not only on grounds of social transformation.
The National Education Policy(1986):- "Education will be used as an agent of basic change in the status of women. The national education system will play a positive; interventionist role in the empowerment of women."
Constitutional Provision for Women
Article 15 clause (3)  the state from making any special provision for women.
Article (15) No citizens shall be discriminated against on the ground of sex.
Article (39) Men and women will give equal rights by the state in getting means of livelihood and equal pay for equal work formula.
Article 51 (a)  it's the duty of each citizen to respect women.
National Policy for Women Empowerment (2001):-
The goal of this policy is to cause the advancement, development, and empowerment of girls. Equal access to participation and enjoyment of all human rights and fundamental freedom by women on an equal basis with men in all spheres-political, economic, and civil.
In 2005 the committee was under the chairmanship of Sri. Tarun Gogoi to examine existing schemes increasing the participation and retention of girls, in all sectors of education, to make the provision in the NPE (National Policy on Education) and POA ( Programme of Action).
Schemes and Programmes for Women's Education in India
National Women's Commission (1992)- To protect the rights of women in general
Kasturba Gandhi Educational plan (1997)- Educational institutions in those areas where women's literacy rate is very low.
Balika Samruddhi Yojna (1997)- For girls child development
Sarva Siksha Abhiyan (2000)- To impart quality education to girls and SC, ST also.
Swayamsidha Yojna (2001-2002)- Self-reliance and empowerment of women.
Kishori Shakti Yojna (2000-2001)- Adolescent's strength and awareness (11-18) years of age.
Kanya Vidya Dhan Yojna (2004)- To promote higher education among girls
Maulana Azad National Scholarship Scheme (2003)- For the promotion of girls' education in the country.
Gaurav Nari Niti (2002)- Women's pride, gender equality, etc.
Ladli (2005)- To raise the status of the girl child in society providing them the right to birth and the right to survival.
Krishi Talim Yojana (2010)- The field of agriculture is imparted to women farmers
Nari Adalat (2007)- For women's justice in society. 33% of the reservation in panchayat has already been for women and the reservation bill is pending to parliament separate reservation to women's education and empowerment.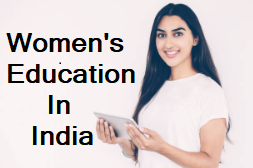 Women Education Quotes
"Educate a man and you educate a person. Educate a woman and you educate the whole family." PM Jawahar Lal Nehru
Conclusion
The education system and the women's education curriculum will be distinct from that of men's education. Private education arrangements should be made for those young or older women who can not go to school due to any causes.
Special arrangements should be made and facilities should be given for training in the teaching profession in view of the fact that lady teachers have proved more suitable for teaching young children.
Finally, Thanks For Reading "Essay on Women's Education in India".
If you have any questions related to the "Essay on Women's Education in India", So, please comment below.
Must Read: