Essay On One Nation One Ration Card
Hello, Friend's Jai Hind…In this post "Essay On One Nation One Ration Card", we will read about the One Nation One Ration Card Scheme as an Essay in detail with all its Advantages and Disadvantages in 1500+ Words…
Note: This "Essay On One Nation One Ration Card" is a result of deep research and hard work. it takes a lot of time to write, it is beneficial for all competitive exams.
Let's Start… (Essay On One Nation One Ration Card)
Introduction
It is said that necessity is the mother of invention, at the present time when the whole world is facing the corona crisis, new measures are being emphasized to solve the problems.
The problem of maintenance of migrant laborers in the country is emerging during lockdown times.
The reason for this is that the states in which those people have gone to work are not getting the benefit of the Public Distribution System due to the lack of ration cards of those states.
To give the benefit of the Public Distribution System, the State Government gives ration cards to its citizens, and through this card, a consumer resident of one state cannot use that card in another state but now the Central Government has implemented One Nation One Ration Card Scheme.
Under this scheme, consumers using the ration card of one state will be able to avail of the same benefits that they get in their home state by using it in any other state of the country.
Although it started in April 2018 when the Integrated Management of Public Distribution System i.e IMPDS was launched for the purpose of improving PDS, due to many problems, it could not be extended in due time.
One Nation One Ration Card Scheme' was launched in four states on a pilot basis in 2019 by the Union Minister Ram Vilas Paswan, now the scheme was available across the country from 1st July 2020.
After the One Nation One Ration Card Scheme, people going to work from one state to another state will also get the benefit of government ration.
612 lakh tonnes of food grains are given to 81 crore people every year through ration cards. As per the reports of the ministry of home affairs, there are 4 crore migrant workers in India.
Read:
What is the One Nation One Ration Card Scheme?
Under the One Nation One Ration Card Scheme, the beneficiaries under the Public Distribution System will be able to get food grains in any state or union territory.
The poor migrant laborers can get ration from any Public Distribution System shop in the country under the scheme. For example, if a UP worker goes to work in Delhi, he can get a subsidized ration in Delhi
on the same
ration card
.
Apart from this, if a person goes to work from one district to another district within his state, then he can get the facility through ration card there too.
For this, it will be necessary to make the ration card portable and the ration card will have to be linked with the Aadhar card.
If a state is running some kind of food security scheme at its level, then the migrants of that state will not be able to get this facility in any other state.
Actually, there is a difference in the rules of the states in the Public Distribution System, in some states grains are given at a lower price than the central government, while in many states the number of items found is more.
One Nation One Ration Card Scheme can be implemented in those ration shops where the point of sale (POS) machine is available.
The objective of implementing this scheme is to ensure that no poor person is deprived of subsidized food grains.
In the initial period, there are 12 states who join the National Portability under this scheme. On 1 May 2020, the Union Ministry of Consumer Affairs, Food, and Public Distribution added 8 more states to it.
So far, 68.5 crore beneficiaries from a total of 28 states and union territories have been associated with this scheme. The government claims that 100% beneficiary will be added to it by March 2021.
Read:
The benefit of One Nation One Ration Card Scheme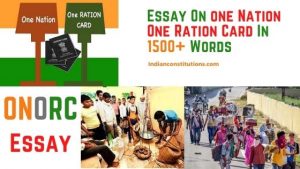 O

ne Nation One Ration Card system is related to the responsibility of the migrants. Usually, there is a huge cost in identifying the beneficiaries, there are many errors related to inclusion and exclusion. If a migrant family changes their place of residence, then they face many obstacles to get subsidized ration again. But the biggest advantage of this scheme is that the laborer can easily get ration at the working place without any formalities.

A

nother benefit is that this scheme will also eliminate the problem of fake ration cards. By essentially linking all ration cards to Aadhaar and the details of all consumers coming to the "point of sale" machine, no person can keep a fake ration card. Because the machines of all PDS shops will be linked to each other.

P

artial or seasonal migration in India has become a common scenario. Sometimes people migrate only for 5-6 months and come back to their homes. It is also seen that only one member of the family migrates for work while the rest of the family stays at home, The third advantage of this scheme

for such people is that each member can get his share of ration from any place. In such a situation, this system can prove to be very profitable, so that the migrant will be able to take food anywhere, while his family can get their share of ration in their village itself. Although there will be some problems with this system, technically it is possible to do so.

T

he distribution of ration is done by fair price shops. But there have been many cases when beneficiaries have complained of discrimination by dealers. Usually, this discrimination is seen in the context of providing quality services. In such a situation, the fourth advantage is that under the One Nation One Ration Card Scheme, the beneficiaries will get the opportunity to choose the dealer of their choice. If a dealer makes a mess in the allocation of ration, the beneficiary can immediately take service of another shop. It is generally seen that social identity and power-related factors become an obstacle to the success of the social distribution system.

D

ue to this scheme, an effort has been made to improve the Public Distribution System through competition. In this form, the One Nation One Ration Card is a scheme to encourage competition and divert bargaining power from dealer to beneficiary. This scheme will give the beneficiaries the opportunity to choose those ration shops which ensure better service. Obviously, this will encourage competition among dealers in a way that will provide better services to the people.
Read:
Challenges of One Nation One Ration Card Scheme
S

ome people in the country are also required to migrate for their livelihood. He stays out of the house for a few months and comes back to his home. If on migration, he changes his ration shop and has to come back and do it again, there may be a technical problem in updating the data again and again.

T

he second challenge related to this is supply chain management, in fact, the intention of the states is not taken into consideration that, when they give their ration to the people of another state

, So how will the supply of the decreasing ration in their state be supplied?

A

t any ration shop it is determined that, according to how many ration cards are connected there, the ration reaches there only. In such a situation, if the number of people in a shop increases, then there will be a shortage of ration

. it is not even known that consumers who grow this month will stay here or will go away next month.

In this situation, the entire supply chain management

will have to be improved.

T

here is a problem in this that if there is less allocation of grains in a state than the prescribed quantity, then it can be seen as a tussle between the states. This is the reason that many states also opposed it. In states like Bihar, UP, whose residents go to work in other states, their allocation may be reduced.

A

"point of sale" machine is used for the implementation of this scheme. It is operated through the Internet but Internet service in rural areas is often interrupted. In such a situation, basic infrastructure needs to be improved for better implementation of this scheme.

A

adhar biometric can create constraints in the smooth food supply for migrants workers. Overall, many challenges exist in the way of the success of the program.
Read:
Conclusion

(Essay On One Nation One Ration Card)
One Nation One Ration Card Scheme based on the digitization of Aadhar card and ration card.
PDS can be combined with a rating system, by studying this rating, the government can improve it through monitoring and control. But for the success of this system, it is necessary to have unified information like App based services.
The One Nation One Ration Card Scheme has the potential to improve PDS results, but it requires that the entire chain be closely monitored and strengthened infrastructurally.
There is a need to ensure the availability of the "point of sale" system and its program at PDS shops so that there is no compromise with the rights of the beneficiaries.
It will also reduce the practice of black marketing at the PDFS shops. currently, the PDS shop owner sells those food grains in the market in the absence of actual beneficiaries.
But there are many sections of the society who still don't have Aadhar cards, thereby depriving them of food security.
Overall, to eliminate the problem of hunger and malnutrition in the country, the implementation of the One Nation One Ration Card Scheme is the need of the hour.
Although there are many challenges in its path, if this scheme is implemented with an efficient strategy, then it will surely play an important role in improving the nutritional level of the poor section of the society
.
If this "Essay On One Nation One Ration Card" is helpful for you… please comment dear.
Thankyou For Reading "Essay On One Nation One Ration Card".
One Nation One Ration Card By Study IQ

Read:
Coronavirus Essay In English In 250 Words | Essay On Coronavirus
Essay On Fit India Movement In English | Fit India Movement Essay