Guide for Students to Avoid Plagiarism While Writing an Assignment
Hello My Dear Friend, In this post "Guide for Students to Avoid Plagiarism While Writing an Assignment", We will read the Full Guide, About How Can Students Avoid Plagiarism While Writing Assignments. So…
Let's Start…
Guide for Students to Avoid Plagiarism While Writing an Assignment
Concerned in regard to plagiarism!? Want to write assignments that are plagiarism free!? Then look no further than our detailed guide on this topic. 
Introduction
It is now simpler than ever to get information from around the globe thanks to the Internet. However, the increased cases of plagiarism are also a result of this ease.
It is a popular misunderstanding that plagiarism is a serious problem only in educational institutions. But not just students are responsible for it.
Anyone can be persuaded to steal another person's ideas and pass them off as their own.
Plagiarism is a significant academic violation that can result in expulsion from school, despite the fact that it may appear like a minor infraction.
Plagiarism can even result in the termination of your employment in the professional sphere.
So, how can you prevent plagiarism when completing online assignments? Find out by reading on!
Here is how you can avoid plagiarism when writing assignments.
Assignments go through many of us during our academic lives and are one of the very common tasks that are given to students.   
As soon as we learn about plagiarism, we must dive into what it is and how we can avoid it.
[tps_header][/tps_header]
What is plagiarism!?
Plagiarism is the act of using another person's words or ideas without giving due credit to the original creator. 
It could be an article, essay, letter, review, blog, or, of course, an assignment. 
In other words, plagiarism is taking someone else's words or ideas and using them without crediting them.
There are many different kinds of plagiarism, but self-plagiarism and open plagiarism are the most common.
Examples range from obvious plagiarism to verbatim quoting another person's words without giving due credit.
As students write numerous assignments employing a significant quantity of research in a short period of time, piracy has grown to be a continuous problem in educational institutions nowadays.
Many colleges and universities, including Duke University, have offices like the Office of Judicial Affairs that investigate each accusation of plagiarism and decide the appropriate punishment.
While minor offenses may result in a zero on that particular assignment, serious offenses may lead to dismissal or suspension.
In either case, plagiarism is humiliating for the student and will result in a more strict review process for all of his/her future assignments.
Therefore, it is safer to confirm with a free plagiarism checker at least once.
Best Ways to Avoid Plagiarism, Tools, and Tricks
What is the best way to reduce this unpleasant situation, and how do you reduce it yourself? Here are a few to try out. 
Use a good Paraphrasing Tool.
What purposes does a paraphrasing tool serve?
This process is referred to as paraphrasing, rewriting, rephrasing, or rewording, among other words.
It involves changing the style, context, tone, overall appearance, etc., of written content by rephrasing or paraphrasing it.
Tools like the rephraser.co utilize the smart NLP (Natural Language Processing) system, a computer algorithm that aids in the prevention of plagiarism by optimizing content.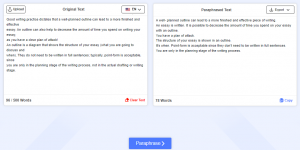 It can be applied to a wide range of tasks, such as enhancing any piece of content, making it more understandable and understandable, or summarizing and condensing it.
Your text is successfully rewritten by a paraphraser tool in order to make it better and more unique.
This can be used by any student with ease to compose assignments and other relevant activities.
They facilitate communication between people and, among other things, ensure that even the most difficult ideas are understood by all.
This AI paraphrasing tool is straightforward and can be used to rewrite and paraphrase text in order to optimize content and prevent plagiarism.
With the use of a rephrasing tool, students can avoid plagiarism by replacing the original words with synonyms and modifying them while maintaining their meaning.
Students may easily and quickly produce original writing that is free of plagiarism.
Because they use a clever NLP system, paraphrasing tools are completely free of plagiarism and can be used without hesitation to avoid plagiarism in the assignments.
Here are some benefits of using a paraphrasing tool:
The tool's straightforward UI makes use error-free and seamless. 
To utilize the tool, there is no cost to the user whatsoever. 
The NLP algorithm ensures that each word is original and different. 
Simply pressing a button is all that is required for the tool to start working its magic.
Quick and Reliable Results
Thanks to the rephrase tool's exceptional accuracy, students do not have to worry about any wrong results!
All Internet-Capable Devices
Not using a laptop or computer? Do not worry; the tool can operate on any internet-connected device without a hitch.
No Registration or Subscription is Necessary
Dislike having to sign up repeatedly? There is no registration needed for this practical tool.
Use a Plagiarism Checker Tool
Students should check the assignment with the help of a dedicated and precise plagiarism checker and follow guidelines before submitting their work. 
There are many plagiarism-checking tools available online, but only some are trustworthy and precise in their service. 
Copyscape, Turnitin, and Quillbot's checker tools are the best and most precise plagiarism checkers available online.
Copyscape offers a limited number of free checks per month and charges for its premium account that allows multiple checks.
Both Turnitin and Quillbot offer paid premium accounts for 
The guidelines might include the types of words or phrases that are not acceptable in an assignment, as well as how long each paragraph must be, and so on.
If a student finds that his or her assignment does not follow these guidelines, then it could be considered plagiarism.
Conclusion
As it is known, plagiarism is one of the most common forms of intellectual property theft. 
It occurs when someone passes off someone else's work as their own. 
Luckily, there are some effective ways to prevent plagiarism. 
Checking whether the work is original is done in colleges, schools, and other institutions using plagiarism detectors.
These tools make it possible to invalidate or block a certain task and punish the person who did it.
Use a plagiarism detection tool, then carefully read and adhere to the academic rules to prevent plagiarism on assignments.
Using a straightforward AI paraphrasing tool, the content can be rewritten and rephrased to prevent plagiarism.
No matter what tool you use, paraphrasing is quick and simple to use.
By examining, editing, and revising the content, you can help to polish it.
Must Read:
How to Take a Study Break In 7 Steps
Should Students Get More Or Less Homework Than They Currently Do?