How to Check Plagiarism of Essays? 3 Suggested Tools
Hello My Dear Lovely Friend, In this post "How to Check Plagiarism of Essays? 3 Suggested Tools", We will be going to read about the top 3 Suggested Plagiarism Checker Tool for Essays in detail. So…
Let's Start…
How to Check Plagiarism of Essays? 3 Suggested Tools
Before turning in your essays, you should make sure that there are no accidental and unintentional matches in them by using a plagiarism checker.
But there are a lot of different plagiarism-checking tools available online.
Some are good for checking small pieces of text, while some are good for checking content like blog posts and articles.
In this post, we are going to be looking at 3 plagiarism-checking tools that you can use to check for duplication in essays.
What is Plagiarism?
Plagiarism can be roughly defined as the act of taking and using someone else's content without giving them the due credit.
Plagiarism is of different types. It can be in the form of blatant copy-pasting, incorrect citations, patchwork copying, etc.
It can also come into your writing accidentally. Even if you don't intend to copy anything, you can get some unintentional matches in your text.
Why Plagiarism is Harmful in Academic Content?
While plagiarism is harmful in all types of content, it can be particularly dangerous in academic content e.g., essays.
Educational institutes take severe action against plagiarism. Some can go as far as to expel the student who plagiarizes content.
As far as professionals are concerned, plagiarism can cause them to lose their jobs. It can permanently damage their reputation.
How to Check for Plagiarism in Essays?
Here are the steps that you need to follow to check plagiarism in essays: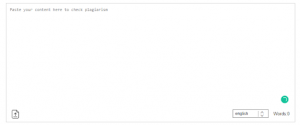 When picking a tool to check plagiarism in essays, be sure to choose one that supports file uploads and has a generous word limit.
This is usually not a problem when you have to check for plagiarism in articles and blog posts because these types of content are not very lengthy.
Essays, on the other hand, can range anywhere from 500 to 5,000 words. Hence, it is important to pick a tool that can support all that material.
We will look at some tools that you can use for checking plagiarism in essays later on in this post.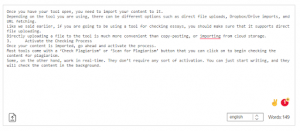 Once you have your tool open, you need to import your content to it.
Depending on the tool you are using, there can be different options such as direct file uploads, Dropbox/Drive imports, and URL fetching.
Like we said earlier, if you are going to be using a tool for checking essays, you should make sure that it supports direct file uploading.
Directly uploading a file to the tool is much more convenient than copy-pasting, or importing from cloud storage.
Activate the Checking Process

Once your content is imported, go ahead and activate the process.
Most tools come with a 'Check Plagiarism' or 'Scan for Plagiarism' button that you can click on to begin checking the content for plagiarism.
Some, on the other hand, work in real-time. They don't require any sort of activation. You can just start writing, and they will check the content in the background.
3 Suggested Tools for Checking Plagiarism in Essays
Here are some tools that you can use for checking plagiarism in essays.
Editpad is an online toolkit that comes with different content optimization utilities. It also has a plagiarism checker that is available for free to all users.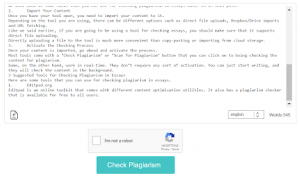 Editpad.org has a simple interface and is very easy to use.
All you need to do is copy-paste your text in the input field (or upload a file), complete the captcha verification and then click on the 'Check Plagiarism button.
Although the plagiarism checker by Editpad does not have a huge word limit, it does support direct file uploads, which makes it good for checking essays.
Features
Very easy to use

Web-based (no need to download)

Shows exactly matched sources

Different languages available

Supports file uploads
2. Grammarly
Grammarly is an excellent tool to use for checking plagiarism in essays.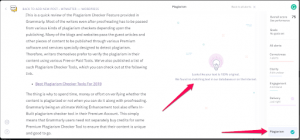 With Grammarly, you can upload documents containing up to 100,000 characters. The file size, on the other hand, should not exceed 4 megabytes.
The file size is not an issue unless you have inserted lots of images into a document.
And since essays don't usually have a lot of images in them, this is not something you should be worried about.
One thing that you should note about Grammarly is that the plagiarism checker is only available to paid users.
Features
Very accurate results

Gives exact matched URLs

Works in real-time

Web-based

Large character and file size limits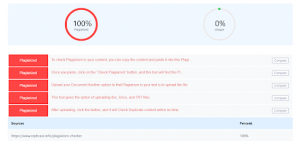 And rounding up our list, we have Rephrase.info.
Rephrase.info is a good tool to use for writers who don't want to deal with lengthy sign-up and registration processes.
You can just upload/paste your content and then press the 'Check Plagiarism' button to run the scan.
The process is quick to complete, and you will the results in a sentence-wise layout. You will also be able to see the exact URLs of the matched sources.
Like Editpad, Rephrase.info also has a 1,000-word limit. However, it supports direct file uploads…which is a plus point.
Features
Multiple languages supported

Sentence-wise reports

Exact URLs of matched sources

Free to use
Conclusion
And there you have it.
These were some of the tools that you can use for checking plagiarism in essays.
Editpad and Rephrase.info are good platforms for free users, and for people who don't like to spend time in registration processes.
Grammarly, on the other hand, is good for people who can afford to spend some money.
The plagiarism checker by Grammarly is only available for paid users. But it is definitely worth it because of the accurate results and the real-time work.
Finally, Thanks For Reading "How to Check Plagiarism of Essays? 3 Suggested Tools", If you have any questions then comment below.
Must Read:
Best Online Colleges And Top Online Universities 2022