3 Free Tools For Essay Summarization In 2022
Hello My Dear Friend, In this post "3 Free Tools For Essay Summarization In 2022", We will know about 3 Free Tools that Helps You For Essay Summarization in detail. So…
Let's Start…
3 Free Tools For Essay Summarization In 2022
Essay summaries are a vital element of academic writing. So, which tools are the best for writing it? 
Summary writing is a vital aspect of academic writing. Today, when many students conduct thorough and extensive research for their academic essays, it's imperative to provide a brief about their topic. These summaries are often considered a pillar of good academic essays.
However, writing a summary requires the student or writer to go through their text and repeatedly understand their topic. In order to summarize a topic adequately, they have to preserve the meaning while shortening the text.
This process can be tedious and tiring, and that's when a good text summarizer can help. Not only does it ensure a straightforward approach to summarization, but it also offers time efficiency. But, the challenge is to find a good summarizer—for free.
So, how exactly do you find such tools? And, what's the importance of summarizing? Let's dive right in and understand it. 
---
What Is An Essay Summary?
An essay summary is the shortening of the primary text to describe the context of an article. This summary is often employed so that the targeted reader knows what the article is about, the writer's thoughts, and its motivation.
While such summaries can be subjective or personal, academic essays require these summaries to be precise and comparatively shorter than their primary essay. Depending on the length of the actual essay, many experts suggest the size of an essay summary should be about eight sentences.
This gives you around 80-100 words, depending on how long your sentences are usually. 
---
Why Is an Essay Summary Important? 
Essay summaries are a great way of telling your reader what to expect. Before you post or submit your essays in most academic settings, these are prerequisites. However, summarization usually isn't only about the essays that you write yourself.
This could be about the ideas or bylaws that you might be expounding in your essay. Therefore, providing a summary can be vital to help the reader understand a few things, such as:
The purpose of writing an essay, i.e., the motivation behind picking a specific topic

Understanding particular ideas within an essay

Providing context 
---
The Basics of A Good Essay Summary 
Summaries are usually not the rephrasing or rewriting of an original idea. In fact, summaries are the extension of an essay. Many students make the mistake of paraphrasing their work and calling it an essay summary.
This isn't right because a summary is supposed to be 10x shorter than the primary essay. You do need paraphrasing skills or tools to help you write good essay summaries. However, that doesn't mean the length can be compromised. 
So, as mentioned before, an essay's summary should be around ten to eight sentences or around 10% of the original article's length.

---
3 Free Tools For Essay Summarization in 2022
The three tools we've picked for you each offer something unique to make the process easier for you. However, all of them can be used to write outstanding summaries. Now, without further delay, here they are:
Prepostseo is one of the most complete websites for writers, so it's no surprise their summarizer also made the cut. The Text Summarizer can help you shorten content to formulate striking summaries of your essays. 
The percentage and bullet options offered by the tool also make it an ideal companion for writers of all kinds. But, for an essay's summary, it's more than an excellent choice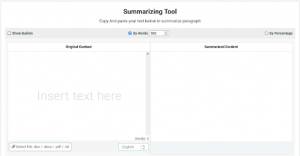 Plus, you get a more than the generous 1000-word limit to write variable summaries. These factors make it yet another stellar tool to add to your arsenal for summary writing. 
Sassbook AI Text Summarizer is one of the leading summary writers in the industry today. Loved equally by professionals and students, this is perhaps the best and most natural summarizer available today. On top of that, the extensive word limit is more than ideal for writing good summaries.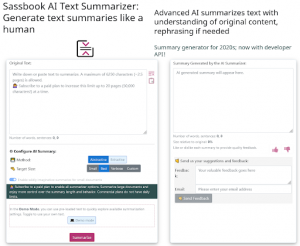 To twist things a little, you can try different options to make your summary a little more comprehensible for the reader before they dive into the complicated stuff. Making this tool the best free tool you can use for essay summarization. 
Summarizer.ORG is perhaps the tool you will need to tend to your summary's body. Instead of using three tools as separate options, you can use one after the other to write a stellar summary. This tool will help you shorten or extend the size of your summary.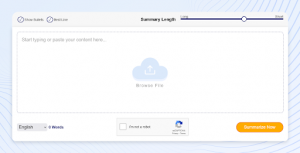 By simply swiping the bar to an adequate length, you can formulate the summary of however many words that you wish for.
---
How To Write A Summary
Writing a summary isn't a difficult procedure, but it's not as straightforward either. You need to tend to critical matters you've addressed in your main essay and turn them into a little glimpse into your research. So, here's how you can use the aforementioned tools to achieve this:
The introductory sentence of your summary needs to feature the entire introduction of your essay. This can be difficult, so you can simply use one of the two rephrasers to rewrite it in different words. You might even find alternative ways of portraying your ideas and provide better context in your summary.
Use One of the Above Tools
You can use one or all of the above tools—depending on the length of your required summary. But, if you are to keep it short, you can use a paraphrasing tool to change the content tone and rephrase your primary content into something shorter and concise. 
The final step is to wrap it up by providing the final idea you've wished to address. Don't leave anything to the reader's imagination, and provide the final nail. This will ensure that your reader knows what to expect as they head on to read the main essay.

---
 Conclusion 
These tools and the way of using them can help you with outstanding essay summarization. Each one of these tools offers something incredible and can help you save a lot of time and hassle of writing a summary.
---
Must Read:
6 Tips For Students to Write High-Quality Essays And Organize Their Work Easily