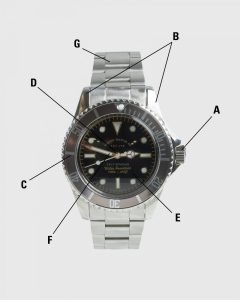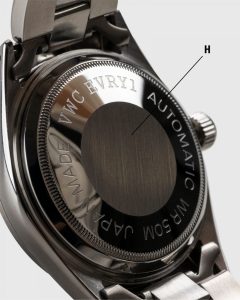 A- Crown – The knob that protrudes your case is referred to as the crown. You can use it to set your watch's time, date, and month, as well as other functions.
B- Case – The case of the watch is the watch's body. It is responsible for housing the watch's mechanism. There are many different types of watch cases available, including plastic, metal ceramic, gold, platinum, and silver. There are even instances in which cases are 3D printed.
C- Bezel – At its simplest form, a bezel is a ring that surrounds the case crystal of a watch. A diver watch, for instance, has a more complicated bezel that serves a specific function. There are other kinds of bezels that can be used for decorative purposes by adding precious stones to them.
D. Crystal – Although not always made from crystal, this component protects your watch's face while providing a clear view of the dial, hands, and hour markers.
E. Dial – The watch's hands, as well as its hour markers, are used here to display the time. The dials of more complicated watches may display information such as the month, the moon phase, or even an image of the night sky.